TIDIGARE UTSTÄLLNINGAR
[20 okt - 21 nov 2012]



Sagan om ringen av Inger Edelfeldt
Författaren och illustratören/konstnären Inger Edelfeldt är född 1956 i Stockholm. Som Tolkienillustratör är hon internationellt känd genom sina målningar till 1985 års Tolkienkalender, utgiven i England och USA. Hon har också på sjuttio- och åttiotalet målat omslagen till flera svenska utgåvor av J.R.R. Tolkiens böcker.

På Seriegalleriets utställning visas Inger Edelfeldts målningar och skisser till Ringen-trilogin och andra verk av J.R.R. Tolkien - ett nittiotal bilder utförda mellan åren 1972 och 1995. Original som aldrig tidigare har ställts ut är nu till salu.


THE LORD OF THE RINGS
Original artwork by Inger Edelfeldt

Author and illustrator/artist Inger Edelfeldt was born in 1956 in Stockholm, Sweden. She is internationally known as a Tolkien illustrator through her paintings for the 1985 Tolkien Calendar. She has also painted the covers of several Swedish editions of J.R.R. Tolkien¬īs books in the seventies and eighties.

The Stockholm-based gallery, Seriegalleriet, will display some ninety paintings and sketches for The Lord of the Rings trilogy and other works by J.R.R. Tolkien. Originals by Inger Edelfeldt that have never before been exhibited are now for sale. There will be signed prints available for sale as well.


ARTIKLAR/URKLIPP


ORIGINAL I LAGER AV Inger Edelfeldt (KLICKA NEDAN FÖR ATT VISA)

» SÖK ORIGINAL


BILDGALLERI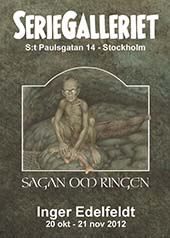 Fatal error: Uncaught Error: Call to undefined function eregi() in /customers/f/d/6/seriegalleriet.se/httpd.www/main.php:88 Stack trace: #0 {main} thrown in /customers/f/d/6/seriegalleriet.se/httpd.www/main.php on line 88